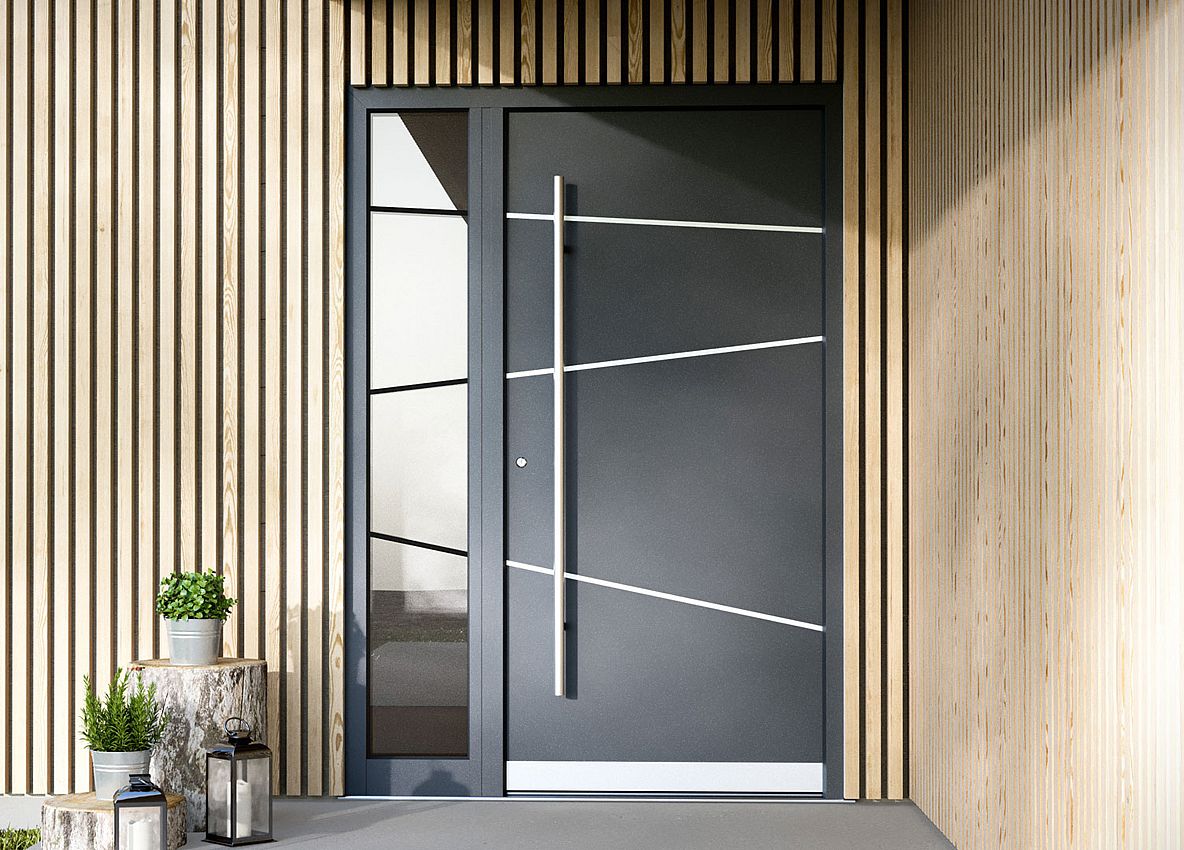 The natural appeal of a solid wood front door from inside seamlessly combined with aluminium weather protection outside.
DESIGN
WOOD-ALUMINIUM FRONT DOORS FOR TRENDSETTERS
Perfected forms, masterly segmentation, graceful lines and a harmonious whole. This is what characterises NATURLINE front doors in the DESIGN line. Customers will be delighted by details such as the precise, skilful grooving, which enhances the effect of the glazed panels. The upgraded sand-blasted finishes look particularly sophisticated here – attractive not only to the eye, but also to the sense of touch. Design appeals to all senses in form and function.
STYLE
WOOD-ALUMINIUM FRONT DOORS WITH A SHEEN TO THEM
A stroke of brilliance for everyone who likes smooth surfaces and elegant reflective finishes. The NATURELINE front doors in Gaulhofer's STYLE series offer an almost 3D experience from outside – skilfully created by the tinted black glazing. The STYLE front door is characterised by sophistication: a stylish, truly understated look with a touch of luxury to it. These front doors constantly change their appearance depending on how the light falls on them, but are guaranteed to impress.
KLASSIK
WOOD-ALUMINIUM FRONT DOORS WITH ENDURING APPEAL
Timeless elegance and a liking for tradition: With a love of classical lines Gaulhofer has re-interpreted the trusty front door, offering customers an extensive selection of models with the KLASSIK series. Balanced segmentation for a coherent look is combined with skilfully executed details. Carefully coordinated: the different decorative glass elements. The overall impression is harmoniously rounded off by the expertly matched range of handles and hardware.